In November 2020, Dixie McCurley, Co-Founder, and President of Trusted CFO Solutions was a guest of James Mason, host of The Authentic Advisor Podcast Series and Managing Director of Mindshop.
In this podcast, Dixie shares insights she's gained over the past decade and reveals critical keys to her success in the area of virtual CFO services. You will also hear from her about real-time metrics, key applications, and how to avoid implementation pitfalls.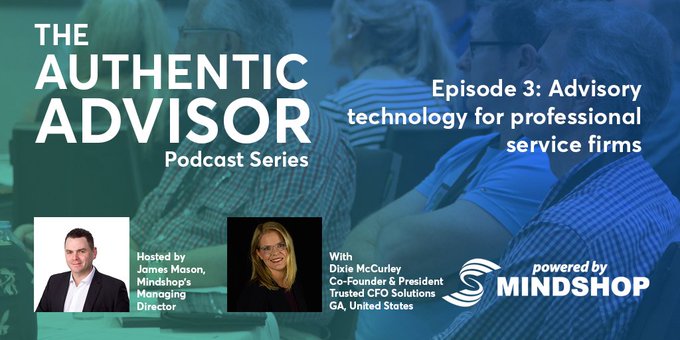 This 17-minute podcast is a must-listen for accounting firms who want to provide excellence in advisory services through technology's practical use. 
Dixie shares what led her to start Trusted CFO Solutions, the Advisory services they have offered over the past decade, and how those services have evolved, especially during the COVID-19 crisis.
One of the big bonuses Dixie reveals is the Top Four Applications the team at Trusted CFO Solutions currently uses and why.
James Mason closes the podcast by asking Dixie the Four Authentic Advisor Questions:
What do you feel is the most overhot trend in Advisory that you see?
What's the hidden trait of advisors you are currently observing?
What's one thing you think high-performing advisors should do more?
What's the one thing high-performing clients could do less?
Dixie gives answers to these four questions and provides rich examples.
Click on the links to learn more about Mindshop or watch or listen as Dixie shares the secrets and lessons for success and the effective use of technology she has learned over the last decade.
Podcast available for view on Vimeo or to listen only through Apple, or Spotify.
Source: The Authentic Advisor podcast Series | Episode 3: Advisory Technology for Professional Service Firms